[RuneScape] Paul's RuneScape Stat Signature Maker
RuneScape Hacks
[June 05, 2012 at 4:29 PM ]
290 views
Paul's RuneScape Stat Signature Maker
1. Installation
After downloading the Tool, simply extract the Folder anywhere and click on "setup.exe".
After the Installation, the Tool should start automatically, and you will have a desktop Icon.
2. Functions
This Tool allows you to get the stats of your Runescape Account and it gives you an BB-Code (wich you can put into your Signature) and an HTML-Code (wich you can embed into websites).
3. Screenshot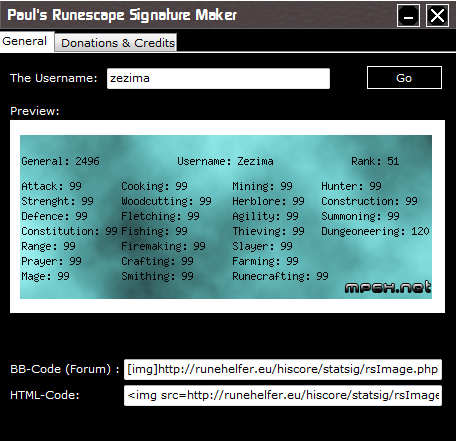 4. Virusscans
5. Credits
Paul
@master131
@Ravallo