[Minecraft 1.2.5] Tiny People Mod v3
Minecraft Mods
[June 12, 2012 at 12:57 AM ]
552 views
Minecraft Mod Showcase : TINY PEOPLE!
The Tiny People mod simply adds tiny humans and monsters to the game which can be spawned with the seeds of life/death and plenty more. They drop various tiny items.
Notice: This mod requires ModLoader
Features:
Right Click to chat with them.
Tiny Mobs which can be spawned with special seeds.
They drop tiny items.
You can sell items for gold! with the Trader, which is spawned by the Seeds of Wealth.
Tiny Rotten Flesh can be eaten and heals half an hunger bar.
The Tiny Wooden Pickaxe has half the stats of the regular wooden pickaxe.
They will never attack bigger creatures.
Tiny Catapults can only be pushed to move.
Tiny Zombies attack Tiny Villagers, Tiny Traders and Tiny Guards, but tiny Villagers and Traders will not fight back, Tiny Guards do fight back though.
Tiny Snowball Catapults attack zombies only!
Tiny Guards attack zombies and have 2 attack Strength (more than zombies).
Tiny Stone Swords have the stats of a regular sized Wooden Sword.
Crafting
Seeds Of Life/Death
Seeds of Defense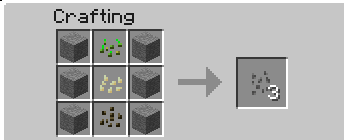 Seeds of Wealth
Tradeable Items:
Tiny Catapult
Tiny Cobblestone
Tiny Stone Sword
Tiny Stick
Tiny Wooden Planks
Tiny Wooden Pickaxe
Tiny Rotten Flesh and Tiny Sticks can be obtained by Killing Tiny Zombies and Tiny Humans.
Additional Details
Progress: 100% complete
Credit to: Bobiking6 from planetminecraft
http://www.mediafire.com/?va5yf7n14a71qbw